#35: Walking and Time and Maps and Archives
Plus, I Went by On Kawara, Undertow by Frances Scott, Trees of New York City, and more links!
Images from January 19, 2013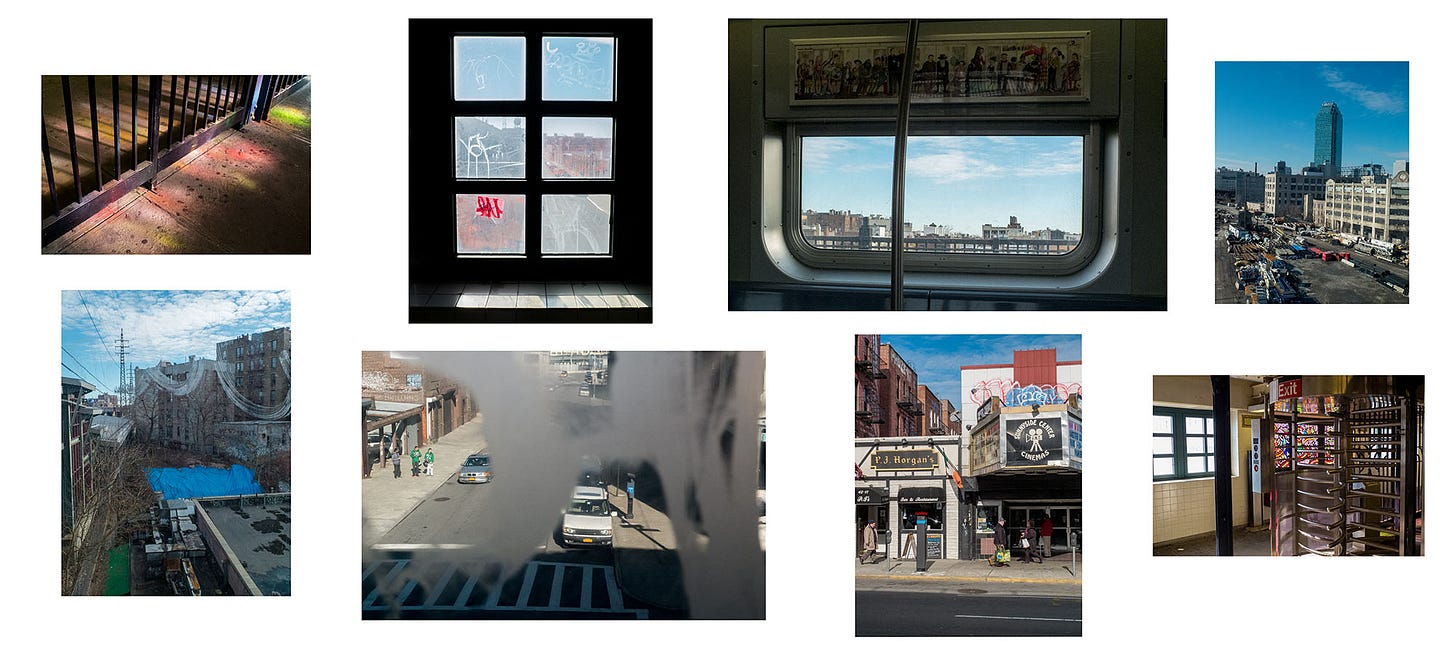 Hello! Thanks for joining me. I pulled out a Vivitar 604 pocket camera from my closet today and now I'm trying to figure out how to get my hands on some 110 film. But this isn't gear newsletter, so I'm let's move on. I'm Bryan, and this is my weekly newsletter on walking, photography, time, maps, trees and sometimes paranoia.
Time: It was a few years ago, or maybe longer, but might have been last year. I'm not sure, but it wasn't recent, definitely not this year. At some point in the last decade, probably five years ago, I saw On Kawara's Today series. I think I saw it. I mean, I remember seeing it, but it also could have been an online video, but I don't think so. I think I saw them in a museum, probably MOMA around 2014, but it could have been in Philly in 2018 or David Zwirner in 2012. Yes, I'm certain that I saw them, somewhere, and they had a big impact. Time based projects are fascinating and I want to explore them more. Noah Kalina has made it 20 years with his Everyday project. Amazing. He'll probably make it to 100 years.
Maps: I was reminded about Kawara's work this week when I received an email pointing to his I Went series which was new to me.
Each day he charted his movements on photocopied maps, enlarging or reducing them to consistent sizes and cropping them to areas that included his residences and favorite haunts.
I imagine doing this by hand and memory is much different than using an app like Strava. I've been recording all of my long walks for the last year. It's become habit, and in some ways, I feel that if I don't track it, then I won't remember it. It's the visual representation on the map that can facilitate recalling the walk. It's kind of like how looking at an old photograph can trigger memories and thoughts out of nowhere.
I also want to use the maps visually in collages or books. I'm working on some ideas with collaborators Tom Starkweather and Magali Duzant for the upcoming podcast and periodical. One thing I definitely want to explore is how sometimes the GPS goes haywire like in the above map of my walk in New Jersey. I'm assuming that it's caught between towers and gets confused. My first reaction, was annoyance, but after I thought about it, I liked that it was happening. It introduces an unknown variable into the data collection. Related: Coordinates: Maps and Art from Nick Vossbrink
If you've had similar experiences or know of any relevant map based projects, drop me a line info@bryanformhals.com

Archives: I put up a page on my website for my archive project 10-19 New York with a statement (work in progress.) I'm in the process of laying out a book dummy for the final edit. I'll probably make 4x6 prints for the yearly edits. But I'm likely not done with it. I'm reviewing my step counts from 2016-2019 and plan on matching the high step count days with the photos from that day. I don't know how I'm going to present it yet, or what further research I'll do, but it feels inline with my thinking these days. Or it might just be a discovery exercise with the data to think about how I can do something with it in the future.
Undertow by Frances Scott
I record each walk through a balance of GPS-tracking, photographs, and hand-written notes on maps. Keeping as close to the edge as is safe, each journey is made only once. Details from the walk are carefully logged: the coastal distance, the duration, and any experiences or discoveries I want to record are written down along its route. At first, I relied more on my memory. Now, walking the islands where I've never lived, I am greedy; I write everything down, my words spilling off into the sea. - Frances Scott
Photobooks: I'm looking forward experiencing this book. It's got all of the elements that I'm interested in right now, and I especially appreciate how the project has evolved into what Frances says is "something which could take me a lifetime to complete." (Time based!) Once you start walking the landscape, you realize that there's always a new connection to be made. That's when the discoveries get exciting. It's cool how a small geographic area expands and becomes something epic when you are on foot.
Trees of New York City - Benjamin Swett
Trees: Last year I finally got my Queens library card, and ever since I've had a rotating pile of books laying around, mostly focused on New York City. I couldn't pass up Trees of New York City and it delivered. Naturalist Swett profiles 55 legendary trees in the city, only a few of which I've seen. I'm making a list of my top choices to visit and will integrate them into my current projects. I suspect we'll probably visit one or two for the podcast as well. Appreciating the wisdom of trees is one of life's key lessons. Related: On the Trail of New York's Greatest Trees
Further Reading
---
I'm a photographer, editor and creative collaborator working in New York City. You can email me at info@bryanformhals.com or follow me on Instagram & Twitter
This newsletter is a weekly digest mixing updates on my current projects with the articles and media that catch my attention during the week. Topics I'm focusing on these days include walking, urbanism, New York city history, news about photography and photobooks, the attention economy and existential dread.