#4: Three Series into one project
Plus, walking amongst plants; the infra-ordinary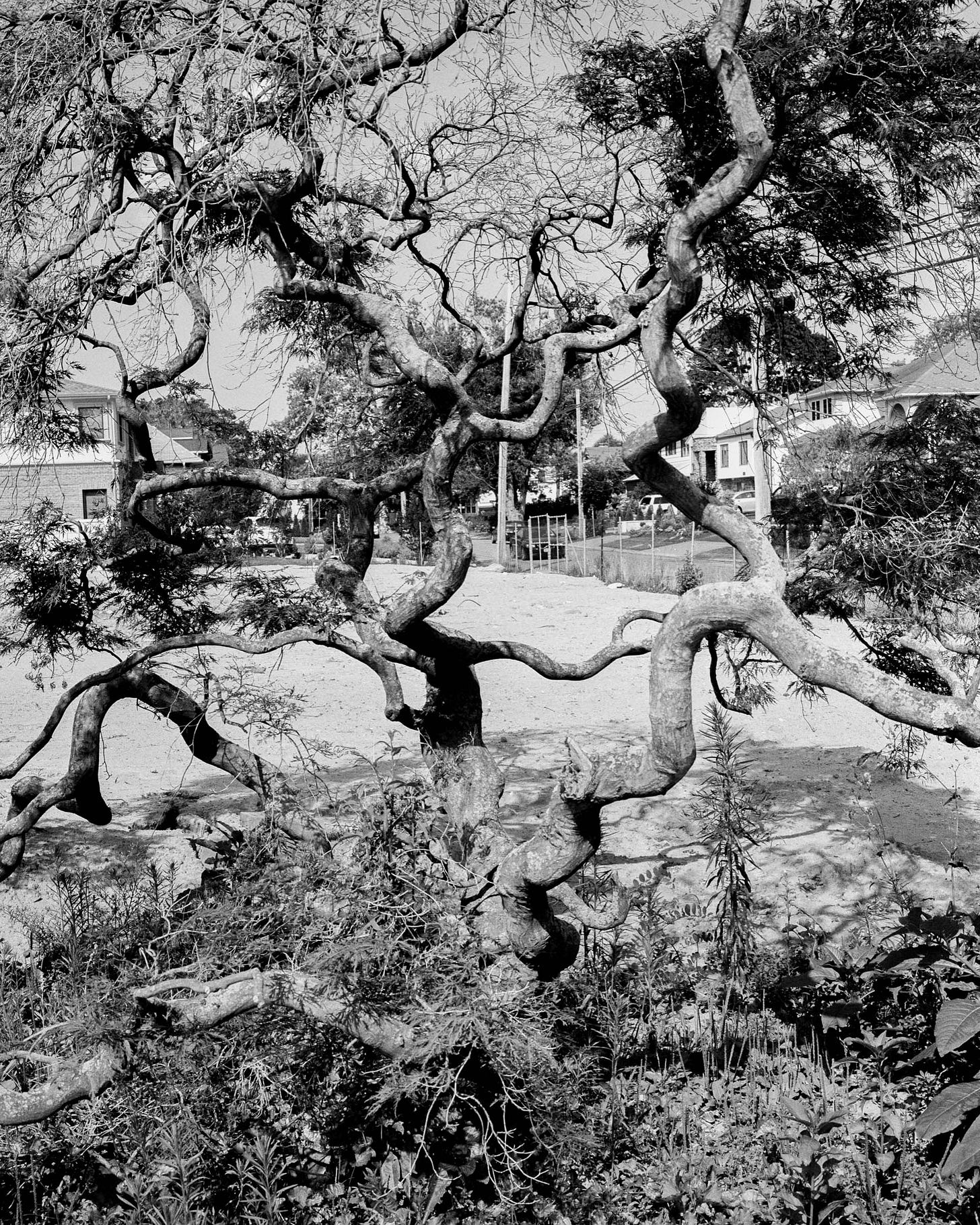 1. Three series into one project

In 2014 I started taking the LIRR to different stops in Long Island, culminating in 18 trips total by the end of 2016. Along the way, I started to become more interested in green spaces and hiking trails, which led me to walk most of the listed trails in NYC. By the time I finished that series, I began to feel these projects were connected, and conceived of them as part of a trilogy, with a walk around the perimeter of Manhattan being the final series. I've now completed all three series and I'm at a place where I see them existing on their own but also as part of a larger edit. I have all three up on my website and have started figuring out which photos I'm going to print for the master edit. The next step!
2. Craig Mod's Epic Walk Across Japan
"I WAS ON an epic walk, 620 miles alone across Japan, over six weeks. I set out on this walk not knowing what I was getting into. I didn't know that I'd meet this guy or see his amazing toilet. But I did and, because I'm human, I wanted to share that serendipity. Look! A man who is almost 70 and has run a cafe almost every day since 1984 has built a toilet for the simple purpose of bedazzling his customers! But sharing today means using social platforms like Instagram or Twitter or Facebook. And once you open those apps and stare into the maw of an algorithmically curated timeline, you are pulled far, far away from the music and the toilet or wherever it is you may be at that moment."
I'm a fan of Craig's writing about media, attention and of course walking. In Wired he wrote an essay about his recent walk across Japan which included a cool audio experiment-podcast. His Ridgeline newsletter is worth subscribing (he's got a great website too!)
3. "Walking Among Plants"
"That said, the peripatetics realize, if only implicitly, that there is no direct route to oneself. Thought is activated thanks to detours and digressions, first, through physical walks prompting the body to move so as to shake cognition out of its stagnation, and, second, through the vegetal world. Plants, as well as their remainders or reminders, become the signposts for our movement, not so much helping orient us in space as orienting us in thought (recall Kant's "What Is Orientation in Thinking?"), referring us, who walk among them, back to ourselves. Do they do so by way of the contrast, with which we have started this foray, now resembling a constant digression? Do they give something to thought—to thinking as an activity and its own outcome; to be thought, infinitely, into the future—that cannot be found elsewhere?"
I've been doing a lot of research the last few months which has disrupted my standard content input flow. It has reminded me that you can 'content' about nearly anything on the internet and sometimes going down those rabbitholes leads you to places like 'The Philosopher's Plant' from the LA Review of Books.
4. Colin Pantall on "Landscape, Power and Climate Change"
"But photographs of the land can contain as much political content as maps and serve very similar purposes. Photographs can define a country by creating a terrestrial identity, by creating borders and reinforcing ideas of nationhood and land ownership. Photographs can reveal military, political, environmental or emotional connections to the land. They can help us make aware of how the world works or, conversely, they can help create a false image of the land both through what they do show as well as what they don't show. And in photography, it's the not showing that is the thing."
Colin has been one of my favorite photography writers since the golden days of photography blogging. He's still at it. Check out the full article on Medium.
5. Embracing the infra-ordinary
"French writer Georges Perec, best known for his 1978 novel Life, A User's Manual, coined the term infra-ordinary to describe the opposite of the "extraordinary" events and objects and communications that dominate our mental lives. Perec's obsession with the infra-ordinary was in part ideological — it critiqued the media of his time. "What speaks to us, seemingly, is always the big event, the untoward, the extra-ordinary: the front-page splash, the banner headlines," he wrote in 1973. One can only imagine what Perec would make of the twenty-first-century "news" cycle. "The daily papers talk of everything except the daily," he complained. "What's really going on, what we're experiencing, the rest, all the rest, where is it?" That's his deeper question: What about everything else? "
This is probably a tad dated since even the most banal and ordinary moments are shared constantly on social media. For me, embracing the 'infra-ordinary' is about embracing a different way of experiencing time. It's something that's consistently on my mind. What has the relentless pace of social media done to our perception of time? Read on in NextCity for more 'Ways to Change How You Interact With Your City.'
Solar Eclipse (1900) - the first moving image of an astronomical phenomenon
Further Reading
100 Women who Walk or Run Solo [Traveling Lines] / Controversial New Theory Suggests Life Wasn't a Fluke of Biology—It Was Physics [Wired] / Would quitting Instagram make us happier? [The Verge] / 18 Spectacular Living Roofs in Detail [Arch Daily] / Air pollution's invisible toll on our cities [Curbed] / This Is the Sort Of Music Truly Intelligent People Listen To, Says Science (Clue: It's Not Opera) [Inc]