#36: Weekend Energizing Walks
Plus, podcasting and music, Daniel Gevaux's 'Round Midday,' Substack group newsletter and more!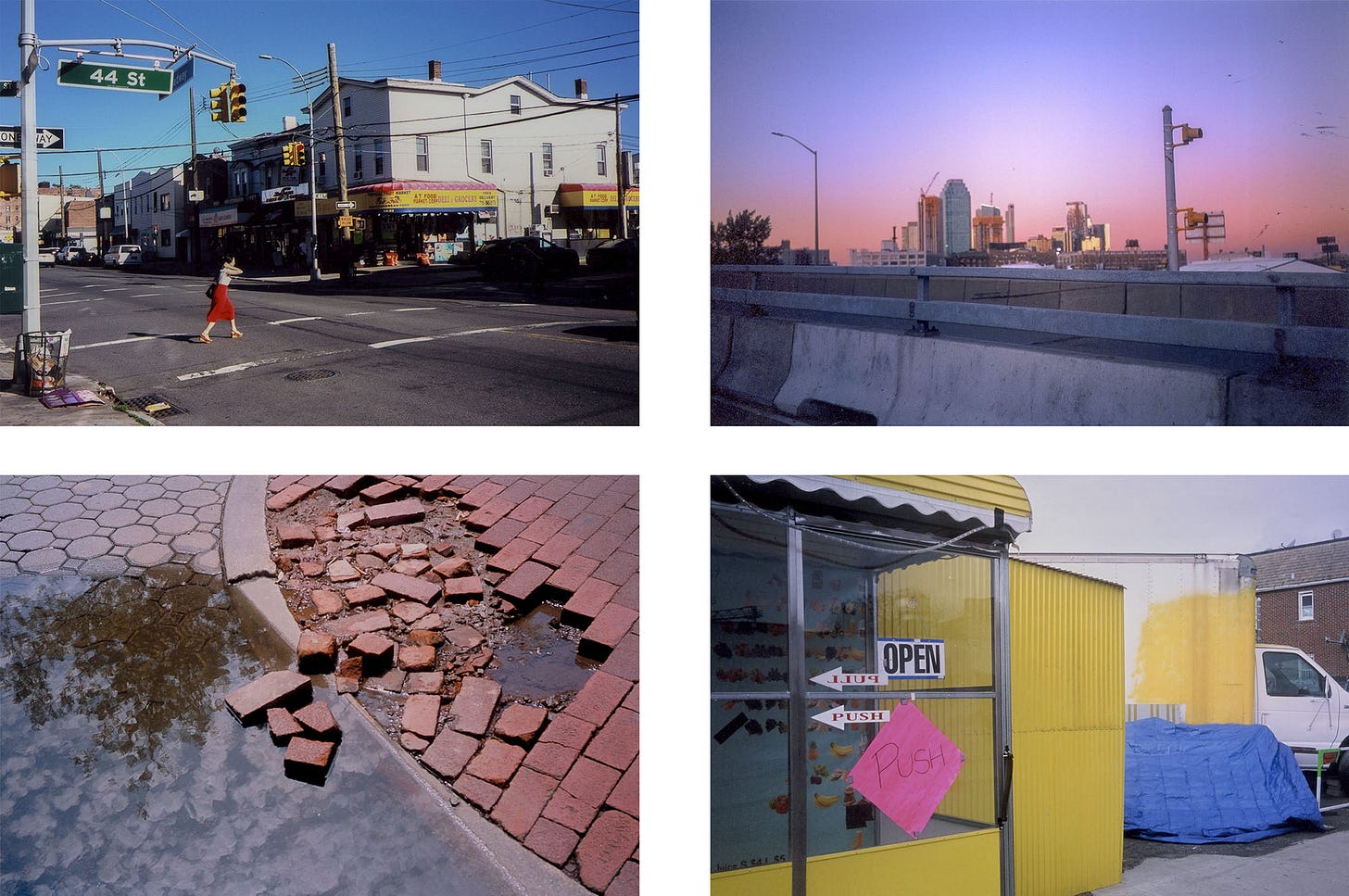 Hello! This is the 36th newsletter I've sent out and I'm still learning best practices which I'm guessing will continuously evolve if past experience is a predictor.
If you recently signed up or this caught your attention through Twitter, I'm Bryan Formhals, and this is my weekly newsletter on walking, New York City, photography, maps and the creative process.
Walking & process: I've worked a corporate 9-5 job most of my life (with a few periods of freelancing) so weekends and vacations have been my primary opportunities to work on my photography projects. Early morning weekend walks have been the most energizing and fertile times for creative ideation, so I've always protected those times closely. After years of walking, I know the value, and how that time impacts my wellness and outlook for the upcoming work week.
For me, it's been important to develop and protect these creative rituals in order to stay productive. I've always been interested in learning how full time artists develop their daily creative rituals, and wonder how my productivity would change without time limitations. Would I burn out or would my ideas accelerate? I don't know. It's possible without the daily grind I wouldn't be motivated to pursue creative projects on the side. Lately I've arrived at the conclusion that in most cases, the more time you have carved out to create art, the more evolved and interesting your results will be. Somewhat of a common sense conclusion. In any professions, or endeavor, it's the individuals that are most dedicated that end up producing the most interesting results.
So, I've been figuring out ways to carve out more time. The answer as usual involves walking. I wake up early during the week as well, and walk about an hour, hour and half before work. It's been a great way to stay energized and focused, but I've yet to develop an idea to incorporate those walks into my larger project. I think I'm getting there though. The next step is to order some film.
Design by Ole Ødegaard for 'Ancient Pathways' by Luke Sanger
Music: Social media has a lot of flaws on the social side of it, but when it comes to media discovery, it's a brilliant, powerful tool. I was checking in on Twitter today when writer Geoff Manaugh shared a tweet about the music of Luke Sanger, who creates conceptual ambient music. I checked out his work, and found his album 'Ancient Pathways' which I thought was interesting (probably not for everyone.) I really loved the accompanying artwork by artist Ole Odegaard which was "inspired by old river maps." I doubt I would have noticed this a year ago, but once you sharpen your focus you begin to notice new connections and inspiration.
Podcast: I think there are a lot of interesting narrative pathways podcasting is opening up (Youtube to some extent too). The show Starkweather and I are working on will mix field recordings with studio conversations and have an original score. I'm excited about it but it could also be a disaster, and I'm perfectly fine with that because I firmly believe this is the right creative path. I'm also interested in how this type of podcast can be integrated into a larger project that would include a printed material, and a dedicated Instagram. We're going to try and see what happens. We're almost done with the first episode but will probably put 3-4 in the can before releasing. Hopefully in the spring (if we can avert a disaster.)
Photography & maps: Last week I talked about maps, and solicited other map based projects. Photographer Daniel Gevaux shared his project 'Round Midday' where he drove around Perth, Australia making landscape photos, and dropping pins on Google Maps at the locations. He also tracked the routes and created a map for his show of the work. I'm especially interested in the single serving Instagram he started where each posts contains his photograph along with the spot from Google Maps.
It got me thinking more about single serving social accounts. I've started sketching out some ideas that I will probably execute once the podcast gets rolling.
Drop me a line if you have recommendations or ideas!
Attention Economy: The first platform I used to share writing and photography was blogger. Then it was typepad. Then wordpress. Then they just kept arriving and soon I was on like five different platforms, and here we are again. I don't want to sound like a hype merchant but Substack feels like something different. I've been observing this space for years now and they have all the ingredients. A smart, customer focused strategy that's solving a core problem.
There are already a few publication that live only Substack, and I'm thinking that will expand. I see an opportunity for a group photography publication but I'm being cautious for the time being, and waiting to see what emerges. I think an online photography publication needs to find editorial territory that you wouldn't fine in Aperture or FOAM. I have a few initial ideas about an angle I think might be interesting.
Would you subscribe to a group newsletter that focused on photography? Drop me a line info@bryanformhals.com.
Further Reading
---
I'm a photographer, editor and creative collaborator working in New York City. You can email me at info@bryanformhals.com or follow me on Instagram & Twitter
This newsletter is a weekly digest mixing updates on my current projects with the articles and media that catch my attention during the week. Topics I'm focusing on these days include walking, urbanism, New York city history, news about photography and photobooks, the attention economy and existential dread.