#47: Remembering Nature Walks in NYC
Plus, Wisdom from Daniel Arnold, Keep the Parks Open Please, and Air Pollution Falls in Major Cities
Are you staying safe? The emotional rollercoaster we're all experiencing right now makes it challenging to stay creative and focused. If you've been able to stay creatively productive, I admire you. If you haven't been able to, don't be hard on yourself. It'll come back.
I'm Bryan and this is my weekly newsletter on walking, photography, maps and New York City. Always feel free to reach out with recommendations, ideas or just to say hi. I love hearing from you: info@bryanformhals.com
For most of my adult life, I didn't spend much time hiking in nature, preferring to keep my walking explorations city bound. That changed around 2014 when I worked on my Long Island project, and started to explore some of the suburban hiking trails on my day trips.
After I ended that project, I had a desire to explore more hiking trails, so figured I'd start right in New York City. There are roughly 300 miles of trails in the city limits and "10,000 acres of wild and untouched areas." I became interested in this aspect of New York City which contradicts the general perception of it as primarily concrete and steal with Central Park the only natural escape.
That perception clearly does not align with reality, and all one has to do is make a cursor inquiry to discover that there are plenty of opportunities to explore natural settings in the city. I studied the trails and made 11 hikes over the course of a year between 2017-2018. I believe that I've hiked most of the trails, save for a couple here and there. I continue to go back to the parks, hiking the trails, but have found myself making few photographs.
Since the pandemic arrived, I have not been able to get back onto the city hiking trails because getting to them would require an unsafe subway ride. I feel I'm suffering from nature withdrawal which compounds the impact of the quarantine. I'm getting anxious to get back on a trail for solid hike, especially now that spring has arrived.
In the meantime, I've been looking at the photos I made a few years ago, and thinking about where to take it next. It might be one of those series that's just short and sweet, not moving into anything more ambitious. I've never had a good title for it either. In recent weeks, I've been kicking around 'Nature Walking in the City of New York.' Titles are tricky, and this one seems to be telling me that there might be more hiking in my future to keep going with the project.
The choice of black and white feels appropriate for where I was at a few years ago but now I'm inclined to photograph in color to bring out the green. This is all well worn territory for photographers so trying to achieve something new is a challenge. I mostly wanted the sense of accomplishment that comes with completing most of the trails. Hiking is its own reward so perhaps in the future I won't even mediate the experience. That is always tough for me. I have an impulse to make photographs and notes during my walks since my mind tends to be highly active.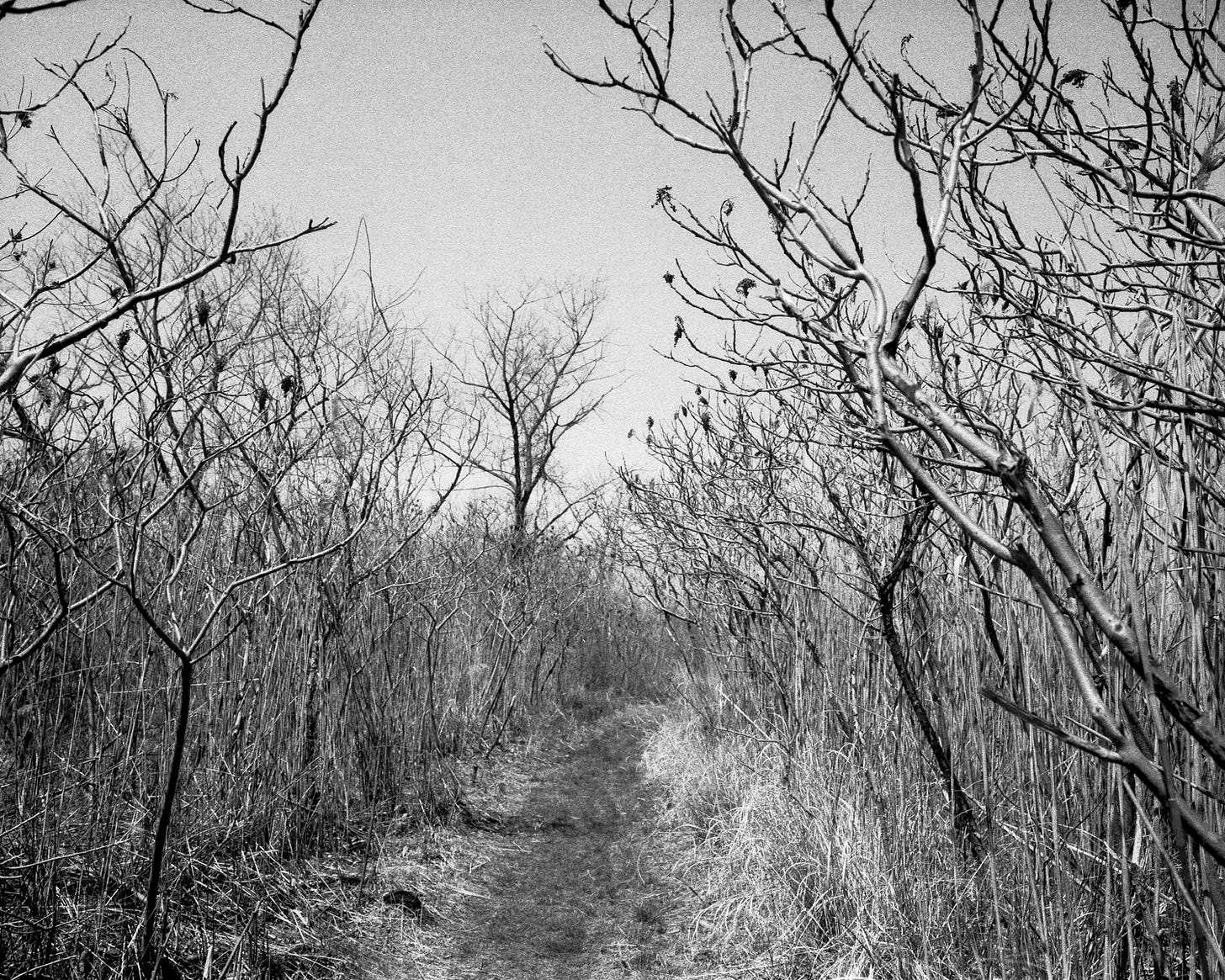 There's something deeper going on as well. I've come to realize that I would love to work directly with parks in some manner, whether physically on the grounds, or in some manner of promoting them. Those type of jobs can be difficult to come by but I'm looking into it. I've always started to research more about landscape design and how I could pursue roles in that industry, utilizing my digital skillset. Naturally this is all very new territory but intuitively I know this feels like the correct pursuit.
Mostly I just want to go on a hike and lose myself amongst the trees. I'm a firm believer in the wisdom of the trees and forest. They speak to us at a primal level, and if we tune in and listen, we become wiser ourselves. We need more wisdom these days. Until then, I'll take some joy in these photographs as they in a small way, help me remember the feeling of being out in nature. I'll be ready.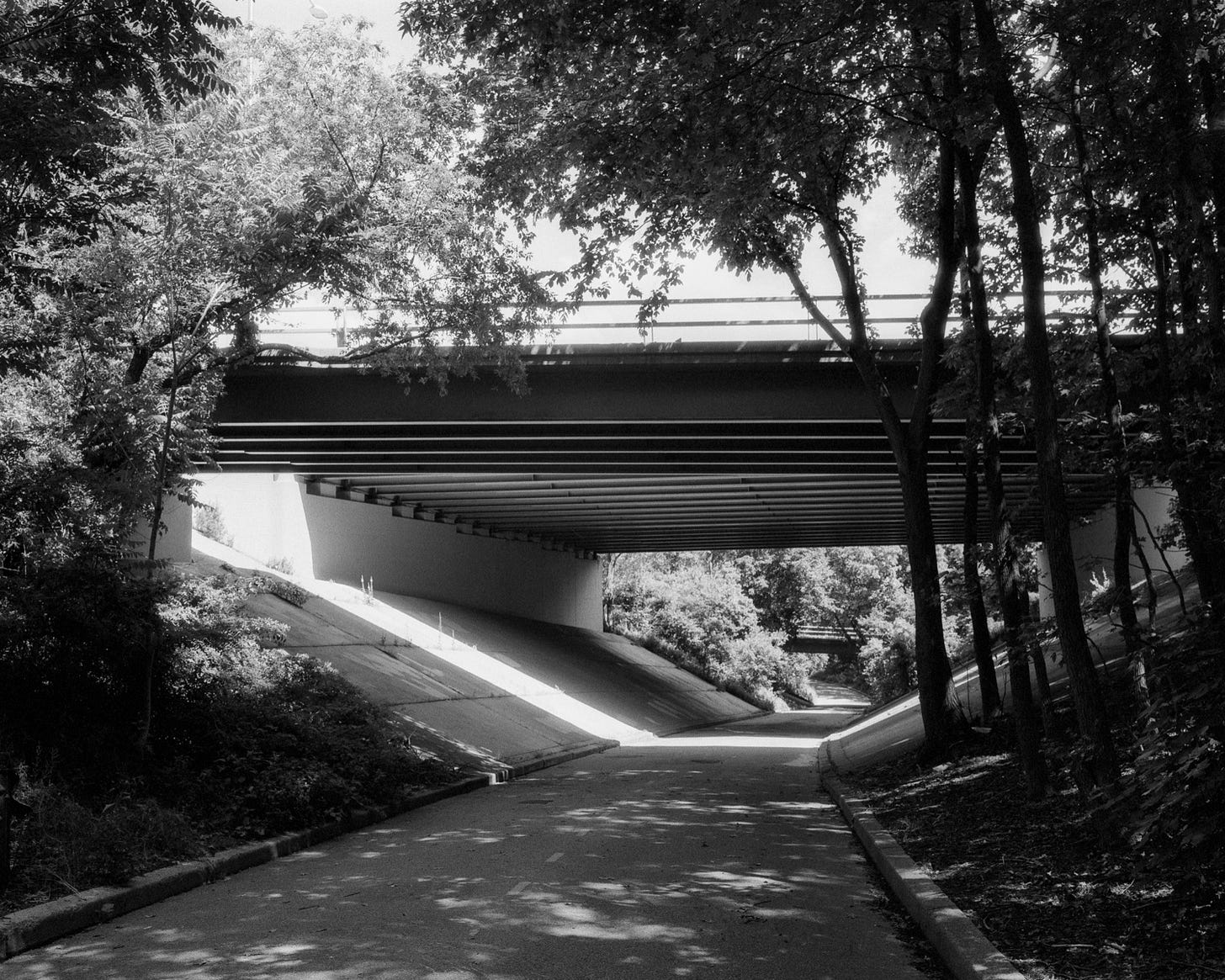 Further Reading
Work-life balance doesn't apply to creatives. Creative work is an irresistible magnet that makes life worth living. It's an all-consuming obsession. Without it, your heart dies.
---
I'm a photographer, writer and content strategist working in New York City. You can email me at info@bryanformhals.com or follow me on Instagram & Twitter
This newsletter is a weekly digest mixing updates on my current projects with the articles and media that catch my attention during the week. Topics I'm focusing on these days include walking, urbanism, New York city history, news about photography and photobooks, the attention economy and existential dread.